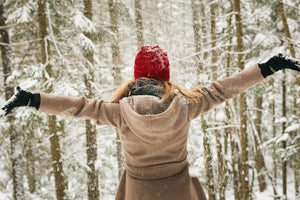 5 Easy Ways To Maintain Your Energy In The Winter
As the weather gets colder, our days tend to get shorter and maintaining our energy in the fall and winter months can be challenging. Although humans can't hibernate, in the coldest and darkest months of the year, we do tend to do something very similar. 
Right now, your body is preparing to store more fat, become inflamed easier, and restrict blood vessels, which can cause headaches (among other reactions) due to the cold weather. We also tend to crave more hot meals with plenty of carbs to keep our tummy full and warm throughout the colder seasons. 
So, what are some ways we can stay healthy and energetic? 
Eat plenty of fresh fruits, veggies and healthy carbs. This will ensure you're getting the right vitamins and antioxidants to maintain your immune system. Some fruits and vegetables in season are mandarin oranges, broccoli, grapefruit, carrots and apples, but if you can get your hands on red fruit (pomegranate, raspberries or strawberries) then get those as well since they are loaded with antioxidants. 
Get your Vitamin D. Vitamin D can be produced naturally when the body is in sunlight, but since the sun is scarce in the winter months (especially if you live in British Columbia) then taking Vitamin D Supplements or eating foods with Vitamin D in them will help boost your energy. Some foods with natural Vitamin D are fish, eggs, avocados and mushrooms. 
Add supplements to your diet. It can be challenging to get the right vitamins and minerals in your diet during the winter months. So adding supplements such as Vitamin C, D, Zinc and Iron to your daily routine can be very helpful in maintaining your energy levels, as well as boosting your mood. 
Practice moderation. It's so easy to over-eat in the winter months when you're staying in at night and watching movies under a soft blanket. Our bodies go into a type of hibernation and all we want to do is wear our favourite sweatpants and eat our favourite treats. This is perfectly normal, and encouraged, but make sure you are balancing it out with nutrition-packed meals and moving your body. 
Go sit in the sauna! The sauna has so many benefits for your body, especially in the winter months. The sauna heat will reach deep inside your body and help warm up and relax all of your muscles, sweating is also the best way to detoxify and cleanse your body. Sitting in the sauna regularly can also help improve your blood circulation, experts have uncovered a link between frequent sauna visits and boosting the immune system. 
In conclusion, if you're not one of those crazy winter sports lovers, then winter can suck and the cold weather that reaches deep into your bones can suck, but luckily there are many ways to make sure you feel as energetic and healthy as you do during the summer months. 
---