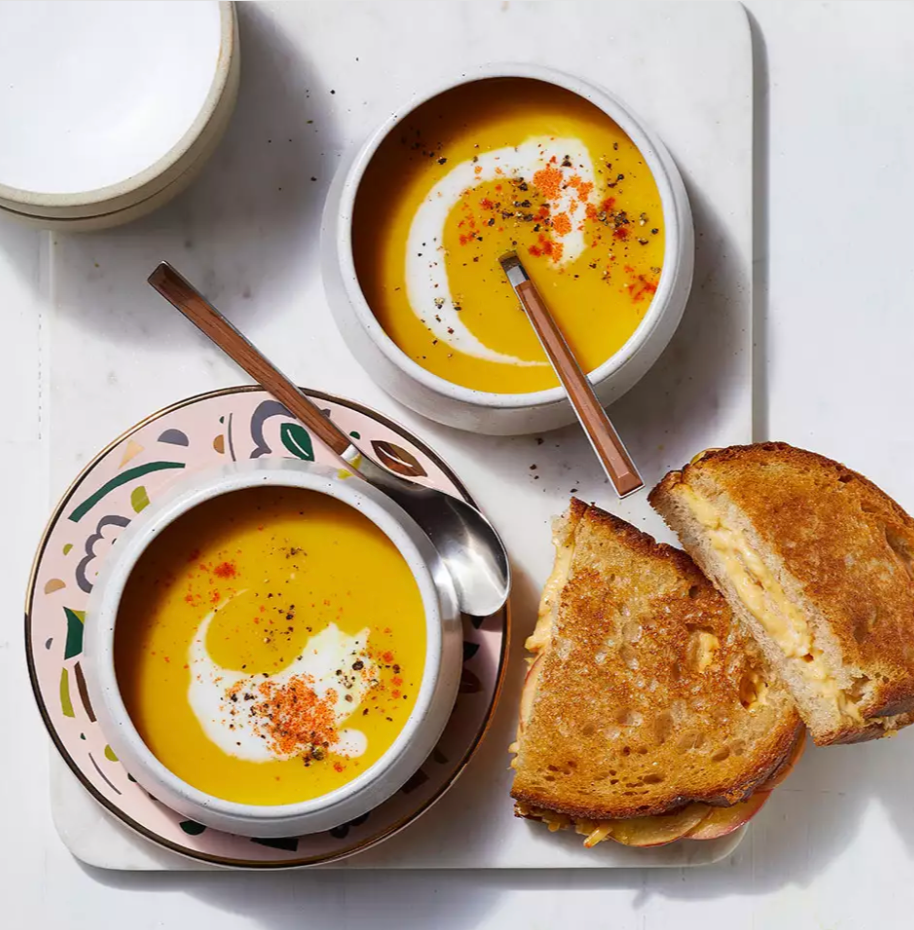 A fall recipe that you and your kids will love! Layering apple slices into grilled cheese sandwiches adds a little crunch to a favourite soup dipper. And creamy butternut squash soup with ginger, cumin and turmeric is a nice change of pace from grilled cheese's usual tomato soup partner.  Be sure to use seasonal squash for the best squash flavor. Serve the duo for a comforting and easy weeknight dinner for the family. The soup keeps well in the fridge, so save leftovers for lunch or dinner later in the week.
Ingredients
2 tablespoons grapeseed oil or coconut oil, divided
1 cup chopped organic onion
2 tablespoons minced fresh ginger
1 teaspoon ground cumin
1 teaspoon ground turmeric
¼ teaspoon cayenne pepper, plus more for garnish
5 cups cubed (1-inch) peeled organic butternut squash
1 (15 ounce) can light coconut milk, divided
2 cups low-sodium organic vegetable broth or organic chicken broth
1 small organic apple, thinly sliced, divided
¾ teaspoon salt
1 tablespoon lime juice
4 slices whole-wheat bread, we recommend Ace Organic Whole Wheat 
1 cup shredded smoked Gouda or Cheddar cheese
Ground pepper for garnish
Directions
Step One
Heat 1 tablespoon oil in a large saucepan over medium heat. Add onion and ginger; cook, stirring, until starting to soften, about 3 minutes. Add cumin, turmeric and cayenne; cook, stirring, for 30 seconds. Add squash, coconut milk (reserve 4 tablespoons for garnish, if desired), broth, half the apple slices and salt. Bring to a boil. Reduce the heat to maintain a simmer and cook, stirring occasionally, until the squash is tender, about 20 minutes. Stir in lime juice. Remove from heat.
Step Two
Puree the soup in the pan using an immersion blender or in batches in a blender. (Use caution when blending hot liquids.)
Step Three
Divide 1/2 cup cheese between 2 slices of bread. Top with the remaining apple slices, cheese and bread. Heat the remaining 1 tablespoon oil in a large nonstick skillet over medium heat. Add the sandwiches and cook until lightly browned on both sides and the cheese is melted, about 2 minutes per side. Cut in half. Garnish the soup with the reserved coconut milk, more cayenne and ground pepper, if desired.
Alternative Option
Don't feel like making the Butternut Squash soup from scratch? That's okay! Sometime's we don't feel like cooking either. Try Happy Planet Butternut Squash soup instead and just focus on making the apple grilled cheese. It'll be our little secret. 
Want to make sure you get the best ingredients? Visit Farmers On Duty and shop our products. We support local fresh farmers and offer organic products to ensure that your meals are as fresh and clean as possible for you and your family. We even deliver daily to Squamish, Whistler and Vancouver!