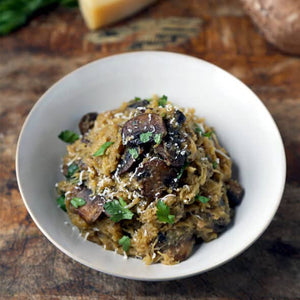 Garlic parmesan spaghetti squash with mushrooms
Time: 80 minutes
Serves: 4
Difficulty: Easy
.
Ingredients:
- 2 pounds spaghetti squash
- 2 tablespoons extra virgin olive oil
- 2 cups button mushrooms (chopped bite size)
- 2 cloves garlic (finely chopped)
- 1 tablespoons fresh thyme
- 1/4 cup Parmesan cheese (grated)
- Handful flat leaf parsley (finely chopped)
- Salt and pepper (to taste)
.
Instructions:
1. Preheat oven to 375Fº
2. In a deep skillet (or large pan), add olive oil, garlic and thyme. Cook for 2 minutes over high heat and add mushrooms. Cook until mushrooms are golden brown (about 7-8 minutes). Turn off the heat and set aside.
3. Wash the spaghetti squash under water and dry it. Put the spaghetti squash on a baking tray and pierce a the skin a few time using a knife. Bake for about 1 hour, until squash can be pierced with a knife.
4. Take the squash out of the oven and let it cool to room temperature for about 15 minutes. Cut in half and get rid of the seeds. Use a fork to scrape the squash into strings.
5. Add the spaghetti squash strings to the skillet (or pan), turn the heat to high and quickly fry with mushrooms. Sprinkle parmesan while sauteing for a minute.
6. Turn the heat off, top with parsley and season with salt and pepper. Serve.
.
📸 Caroline Phelps - Pickledplum.com
---