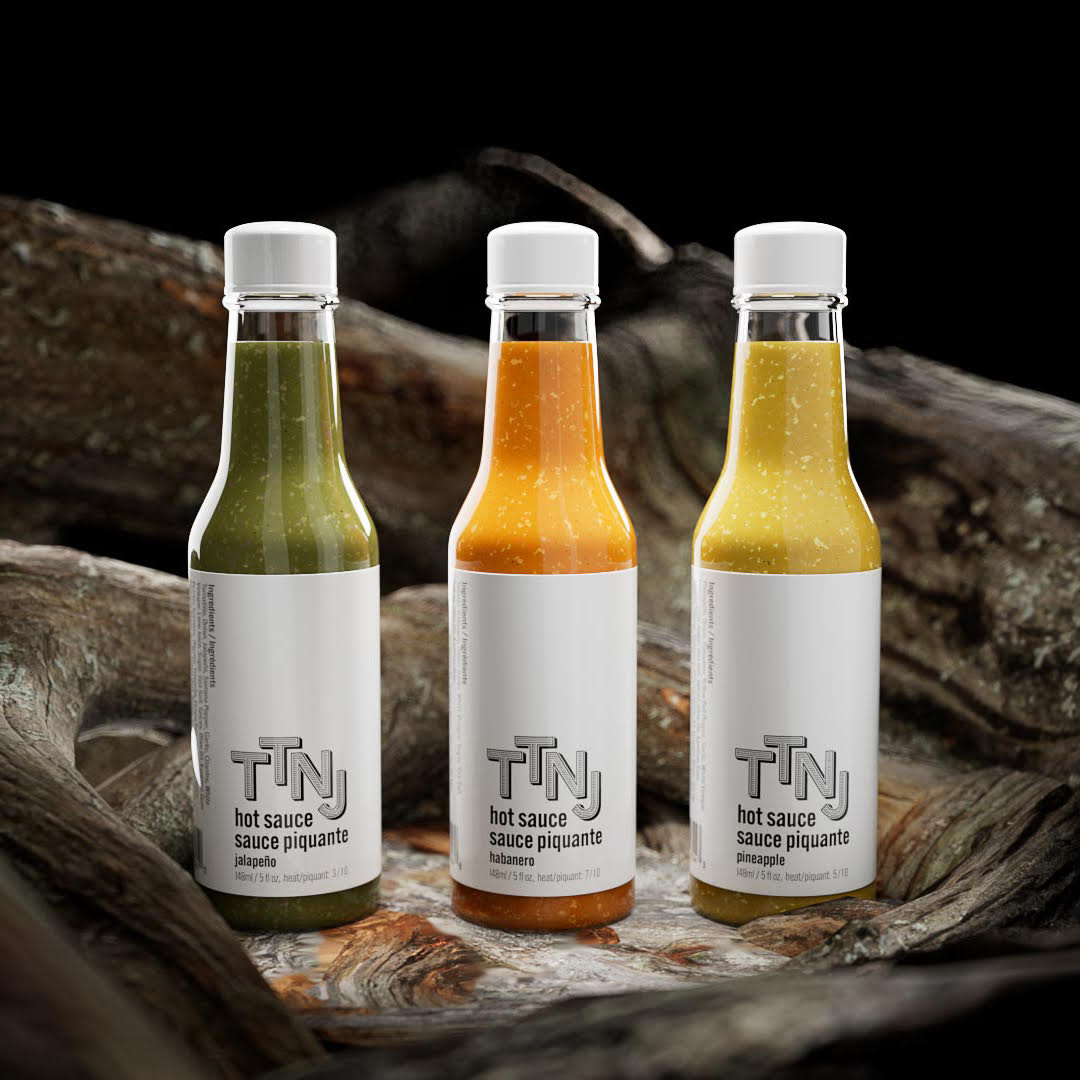 The colder months are upon us, and with that, many of us are looking for ways to keep our bodies and bellies warm and cozy. Although soups and chowders are a classic cold weather staple, allow us to propose some alternative ways to keep your tastebuds feeling toasty. 
Try spicing up your next meal, with a classic pantry staple… you guessed it… Hot Sauce! 
Introducing one of our newest products, TTNJ Hot Sauce. Locally based in Squamish, BC, TTNJ stands for "to the next journey", and TTNJ Hot Sauce has an ethos we can all get behind; Live simple, eat well, and make time and adventure. 
These delectable hot sauces are available in three spicy flavours! Jalapeño, Pineapple, and Habanero.
The Jalapeño Hot Sauce, which provides a salsa verde, cilantro and lime flavour profile, is the most mild option. Making it a safer option to those of us with more sensitive palettes.
We would recommend using this sauce for:
A unique addition to home cooked mashed potatoes 
A peppery marinade to your favourite fresh BC seafood
A sizzling organic Two Rivers chicken, red onion, and bell pepper fajita dinner  
The Pineapple Hot Sauce, a spicier offering, provides a fruity, warm spice, and sweet flavour profile 
We would recommend using this sauce for:
A sweet and spicy addition to a homemade tomato, mango, and onion pico de gallo
A zesty glaze for your favourite roasted seasonal veggies
A sweet and spicy rice bowl with your favourite protein, BC farm fresh eggs, scallions, and grilled pineapple chunks
The Habanero Hot Sauce, TTNJ's spiciest sauce option, provides a bold, fiery, and floral flavour profile. 
We would recommend using this sauce for:
A warm and toasty addition to your breakfast omelet or scramble with BC farm fresh eggs
A fiery go-to sauce to toss with some baked chicken wings
A home cooked three bean chili with fresh peppers, onions, and topped with your favourite organic or dairy free cheese!
TTNJ Hot Sauces are the perfect addition to your pantry, which are guaranteed to keep your tastebuds warm and toasty during these upcoming colder months. We here at Farmers on Duty carry all three of the classic TTNJ Hot Sauce flavours, which are available for in-store pickup, same day Squamish delivery, or next day delivery to Whistler and Vancouver.
Good News! Hot Sauces are typically a healthier option than some typical creamier or more sugary condiments. Even better, TTNJ Hot Sauce is Gluten free, Preservative free, and Vegan, which means not only are they suitable for all kitchens, diets, and health preferences, but they have some super surprising health benefits! Not only are they low calorie, and filled with antioxidants, but did you know that they can help you clear up a cold?! 
Hot sauces contain capsaicin, the bioactive ingredient in chili peppers. And believe it or not, Capsaicin helps to loosen up a stuffy nose, relieve coughing and a sore throat. Who knew that something as tasty as hot sauce could be the natural answer to our inevitable winter sniffles!
Get Spicy with Farmers on Duty and TTNJ Hot Sauce!
Click here to order now! https://farmersonduty.com/products/ttnj-hot-sauce-trio-pack-148ml-x-3?_pos=4&_sid=34f0ffc64&_ss=r
Click one of the links below to learn more about the health benefits of Hot Sauce!
https://hive.rochesterregional.org/2020/02/spicy-food-health