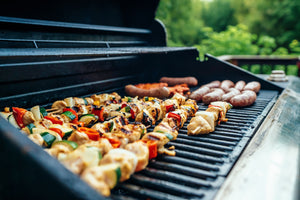 Our Go-To Camping Recipes with 5 Ingredients or Less
Kids can often be picky when it comes to meals so we've made sure the recipes below can all be tailored to the whole family's taste buds. These recipes are easy, delicious and always a crowd favourite. Also, there is already so much extra to pack when it comes to camping. After lots of trial and error, we have simplified our grocery shopping list while heading outside for a camping weekend. Here are our favoruite, go-to recipes:
Vegetable Kabobs
These are healthy and easy. You can choose whatever vegetables you like. We love using zucchini, onion, mushrooms, and any colour bell pepper. Soak your kabob sticks in water overnight so they do not burn, cut the vegetables up, spear the vegetables on the kabob sticks, oil them, season them however you like, cook them over an open fire and enjoy. Easy and healthy!
Breakfast Sandwiches
We love these even just at home. These are great because there is a customization for everyone, and they are super easy. All you need are a few slices of bread, eggs, cheese, your choice of meat and whatever condiments you choose. We love a classic mayo and mustard on these sandwiches.
S'mores
A classic to say the least. This is a tradition for most and we don't think it's just because of the taste, these are extremely easy and the kids love them! Graham crackers, roasted marshmallow, chocolate, done! 
Strawberry Arugula Walnut Salad
This one isn't too heavy for those hot summer days. This one is super easy to prep at home as well and dress the salad once you're ready to eat. All you need is arugula, strawberries, walnuts, feta cheese, red onion and balsamic dressing. This one is always a crowd favourite. 
We are excited that camping season is here and hope that your family loves these easy, 5 ingredients or less recipes. Enjoy!
---