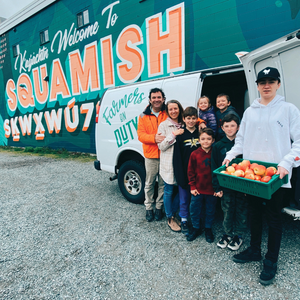 Why support the Local Economy?
Our Story...
We are a family of 8 that always have been related to the farm and its products in our home country in Chile. We love and respect Nature and we care about food.
We start Farmers on Duty as a way to find the best products to feed our family and ended up looking for products to feed a whole town, we want to share the beauty of what we have found here.
As a family business we work for families like yours to make life easier so you can enjoy your time together.We value your support and contribution to our local business and the local business we support.
You will find in each box local and high quality products, clean ingredients grocery, sustainable and organic products all made with love.
Local businesses contribute to the authentic character of a place and are often more likely to reduce their environmental impact.
"Community Economic Development (CED) is action by people locally to create economic opportunities and better social conditions, particularly for those who are most disadvantaged. CED is an approach that recognizes that economic, environmental and social challenges are interdependent, complex and ever-changing. To be effective, solutions must be rooted in local knowledge and led by community members. CED promotes holistic approaches, addressing individual, community and regional levels, recognizing that these levels are interconnected." ( Source: The Canadian CED Network ).

Below are three ways for create more local economic activity.

1)      Support locally owned businesses – Buy real local!
The best way to help strengthen your local economy is to support locally owned businesses.
"Communities with a greater concentration of small, locally owned businesses have healthier populations. They also enjoy higher rates of civic engagement and sustain higher property values." (American Independent Business Association)
By supporting locally owned businesses, you: help support local job creation, keep more money circulating in your local economy, and often receive better service and the best local products for the local growers and small batch. Local business owners are literally invested in their local community so they are more likely to give back, doing so by sponsoring local community events and initiatives, fundraising for local stakeholders: schools, academies, clubs, etc…

2)      Circular Money in the same community
Many people understand the value of shopping locally but overlook the benefits locally you help keep more money circulating in the local economy instead of those resources going to another cities.

3)     Local and Global Environment
Everyone talks about climate change but the truth is that not everyone makes their contribution. Thinking of daily van trips from other cities to our community showing our carbon footprint and further congesting our Sea to Sky Highway makes us think that we should prefer our local movements. This is why by choosing Farmers on Duty, you are helping to reduce this with our e-bike deliveries, less plastic within each order, and bag return programs.
---
1 comment